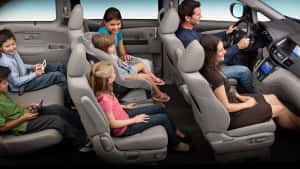 Honda has been making and selling high-quality, reliable, efficient, and family-friendly vehicles since the automotive industry first blossomed. You can count on Honda vehicles to come equipped with tons of features and more than enough space for friends and cargo. It shouldn't be surprising that not one but four Honda vehicles were named to U.S. News and World Report's 2017 list of Best Cars for Families.* Keep reading to learn more about which vehicles won and why.
Honda Loves Your Family
The 2017 models of the Honda CR-V, Honda HR-V, Honda Pilot, and Honda Odyssey were all winners in each of their respective classes in the 2017 Best Cars for Families category. Specific noteworthy aspects really helped them stand out among the competition and gave them an edge up on the competition, helping them to secure their well-deserved wins. The CR-V and HR-V offer the most cargo room in their classes, something families normally consider when car shopping. The Pilot stood out because of its available cargo and passenger space, alongside its high crash test scores and available innovative safety technology. The Odyssey secured its win for the seventh year in a row easily by continuing to do what it does best.
The Criteria
For this competition, U.S. News and World Report took the time to examine 211 vehicles from each class and determine which are best suited for families. The ranking system takes into account professional automobile reviews, safety ratings, passenger space, and cargo volume, as well as the availability of family-friendly features. After checking all of these, the vehicles with the highest composite scores are awarded the title for their classes. This ranking method eliminates the chance of favoritism and ensures fair competition, meaning the winners are winners for good reason.
Get into a Honda at Hampton Roads Honda Dealers
Whether you're planning on getting a CR-V or an Odyssey, you know your family will be in good hands with a Honda vehicle. Come down to Hampton Roads Honda Dealers or give us a call to learn more about our current specials and great vehicles today.