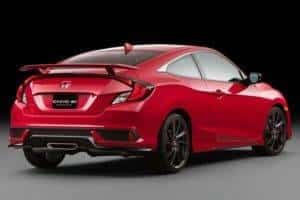 For Hampton Roads drivers, the soon-to-be-released 2017 Honda Civic Si will offer a thrilling experience behind the wheel. Though the vehicle is slated to arrive at dealerships later in the year, Honda recently released photos and details about both the Civic Si Coupe and Sedan models—and they do not disappoint. Offering plenty of power and gusto under the hood and high-tech features inside the cabin, the 2017 Honda Civic Si is the whole package for those who love the open road.
Under the Hood
The 2017 Honda Civic Si has a 1.5L turbocharged engine, which will produce up to 205 hp and 192 lb-ft of torque. That's up from last year's model, and according to a Motor Trend review, "the turbo engine and all the torque it provides should dramatically change the car's driving experience." The Si is paired with a short-throw 6-speed manual transmission that is precise and quick. Also contributing to the Si's fast, heart-pounding performance is a limited slip differential for tight cornering, an adaptive damper system for greater stability and suspension, and much more.
Features Inside
From the engine to the cabin, drivers can expect the same commitment to a superior driving experience. With technology right at your fingertips, drivers can command the cockpit for a greater engagement with the road. Front sport bucket seats with leather-wrapped steering wheel ensure that you feel comfortable, supported in all the right places, and ready for just about anything. And a 450-watt Premium Audio system with Display Audio touchscreen and USB ports allows drivers to pair the scenery of the road to their favorite soundtrack, whether it's rock 'n' roll or violin concertos.
Head-Turning Style
The 2017 Honda Civic Si takes an aggressive stance on the road. Every curve, line, and detail on the outside suggests a dedication to power, speed, and high-quality performance. A center-outlet sport exhaust system is track-inspired and creates a throaty reverberation that will satisfy and quench a thirst for boldness. An aerodynamic spoiler at the rear helps the Si slice through the air and gives it a winged silhouette, ready to fly. And two-toned 18-inch alloy wheels round out the impressive, primed-for-adventure look.
Find out More
Visit any Hampton Roads Honda Dealer to explore current offers on all of the available 2017 Honda Civic models, learn about financing options, and get all the details about the 2017 Honda Civic Si before it hits our dealerships.