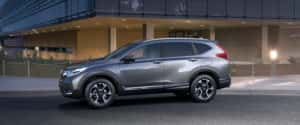 It can sometimes be difficult to see where one vehicle differentiates from another when comparing two similar vehicles, like the Honda CR-V and the Toyota RAV 4, if you're not paying close enough attention. Keep reading to see which of these two vehicles has better interior space offerings and other impressive aspects as well.
More Space to Do What You Want
The 2017 Honda CR-V dominates the 2017 Toyota RAV4 when it comes to interior space, no ifs, ands, or buts. Passenger space on the CR-V totals 105.9 cubic feet, giving drivers plenty of space to stretch out, while the RAV4 comes up behind with a mere 101.9 cubic feet. The Honda CR-V also has more readily available and versatile cargo space with between 39.2 and 75.8 cubic feet depending on the seating appointments. The RAV4 falls way behind with space between 38.4 and 73.4 cubic feet.
Still Surpassing the Competition
There's more to the Honda than interior space; it also easily shows up its opponent in many other areas. The CR-V is priced at only $24,045 MSRP for 2WD models,* while the RAV4 costs $25,410 MSRP—a confusing increase considering the CR-V provides more amenities than the RAV4.
The CR-V provides stellar performance with an engine that delivers 184 hp and 180 lb-ft of torque and impressive fuel economy, while the RAV4 is much less powerful and efficient, only delivering up to 176 hp, 172 lb-ft of torque, 23 mpg city, and 30 mpg highway.
The CR-V also reigns supreme when it comes to safety with a perfect 5-star safety rating from the NHTSA.** The RAV4 struggles a bit in the safety and security department, scoring only a 4-star safety rating.
Test Drive a 2017 Honda CR-V at Hampton Roads Honda
There are still plenty of areas where the 2017 Honda CR-V is able to prove that it has more to offer than the 2017 Toyota RAV4, but instead of just telling you about it, come see for yourself at your Hampton Roads Honda Dealers location today. Feel free to give us a call or visit our website to learn more about our current offers and financing options.
**Government 5-Star Safety Ratings are part of the National Highway Traffic Safety Administration's (NHTSA's) New Car Assessment Program. For additional information on the 5-Star Safety Ratings program, please visit www.safercar.gov.