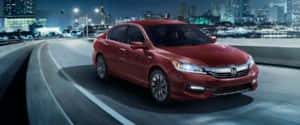 Hybrid vehicles are becoming more popular every year, but not all of these vehicles have been endowed with equal capabilities. Reviewers like those at Edmunds.com have given the 2017 Toyota Camry Hybrid limited praise, but when it comes to fuel economy, this Toyota falls far short of the incredible standard set by the 2017 Honda Accord Hybrid. The Accord Hybrid has quickly become a household name among Hampton Roads drivers, and once you've seen how these two vehicles measure up to one another, it won't be hard to see why!
Camry vs. Accord: Fuel Economy and Engine Performance
Drivers who want to get the most bang for their buck may be attracted to the 2017 Toyota Camry Hybrid's relatively low starting price, but in fact, the 2017 Honda Accord Hybrid can provide much more value for the people of Hampton Roads. The latter option is priced slightly higher, but its vastly superior fuel economy will translate into increased savings over time! The Toyota Camry Hybrid gets just 42 mpg in city environments, 38 mpg on the open road, and 40 mpg in combined driving settings. The Accord Hybrid, with an EPA-estimated 49 mpg city, 47 mpg highway, and 48 mpg combined,* easily outpaces its competitor in all types of driving conditions. If you're like most drivers, then you probably tend to think that all Hybrid vehicles offer top-of-the-line fuel economy, but it's clear that there's an incredible difference between the offerings of these two automobiles.
In addition to providing superior fuel efficiency, the 2017 Honda Accord Hybrid's drivetrain is able to offer more power on the road. On its own, the Toyota Camry's 2.5L engine is able to generate slightly more horsepower than the Accord's 2.0L engine block, but when we take these vehicles' electric motors into account, the Accord Hybrid once again comes out on top! The latter gets up to 212 total system horsepower, while the Camry gets just 200 hp.
Take the Accord Hybrid for a Test Drive!
Drivers who really want to understand what sets the 2017 Honda Accord Hybrid apart from the 2017 Toyota Camry Hybrid are invited to take the Honda Accord Hybrid for a test drive at their local Hampton Roads Honda Dealer! Thanks to our current offers and financing options, there's never been a better time to get behind the wheel of one of Honda's hybrid cars. Reach out to us today!