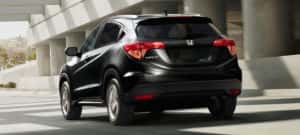 The 2018 Toyota CH-R is often compared to vehicles like the 2017 Honda HR-V, due to the fact that they are in the same category and overlap in some areas. However, just because they have some similarities does not mean that there aren't differences—important ones. To see just a few of the reasons it's a good idea to choose Honda when looking for your next subcompact SUV, read on.
Less Money for More Everything
The 2017 Toyota C-HR is a vehicle that does have its pros, but when it comes to performing as a true subcompact SUV it shows a number of downfalls. And when it comes to all-wheel drive? The 2018 Honda C-HR doesn't have it at all. Instead, each trim level of the vehicle only provides drivers with a two-wheel drive system that greatly limits the vehicle's performance capabilities. On the other hand, the 2017 Honda HR-V provides drivers with AWD options even on the base trim level. This glaring difference between the two vehicles leaves a lot to be desired from a vehicle one model year above its competition.
There are plenty of other reasons the 2017 Honda HR-V bests the 2018 Toyota C-HR. For starters, the HR-V comes at a lower MSRP, even though it has some important advantages over its rival. For example, the HR-V's interior is much more roomy, for both cargo and passengers. It also has a lower curb weight that provides a performance advantage, and there are simply more available features on the HR-V. A close look reveals that the 2018 Toyota C-HR lacks some of the basic performance aspects that make the HR-V number one in performance according to U.S. News.
Visit Hampton Roads Honda Dealers for a Test Drive
Now that the choice is clear, come visit your local Hampton Roads Honda Dealer and test out the 2017 Honda HR-V AWD and prepare to be impressed. Feel free to also contact us online to learn more about financing and current offers we have available.