The Honda CR-V is currently ranked first among Compact SUVs, Crossover SUVs, and SUVs with 2 Rows, so drivers are naturally eager to hear about 2020 Honda CR-V changes. The most talked about is the addition of a 2020 Honda CR-V Hybrid lineup, and it's one that promises to take the legendary CR-V nameplate to new heights.
Simply read on to find out more about:
Honda CR-V Hybrid Philosophy
Honda CR-V Hybrid Powertrain
Honda CR-V Hybrid Design
Honda CR-V Hybrid Philosophy
The Honda CR-V represents both the future of Honda and the future of driving. Honda leaders have already promised to extend hybrid engineering to all their core models over the coming years, and the CR-V is just the latest nameplate to get that treatment.
To support its production at Honda's plant in Anna, Ohio, $4.2 million has been invested and 34 new jobs have been created. It's going to join the Honda Insight and Honda Accord Hybrid to become the third electrified Honda manufactured in the U.S.
Honda CR-V Hybrid Powertrain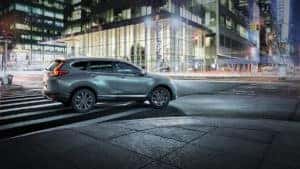 The Honda CR-V Hybrid is expected to command up to 212 hp combined and achieve a 50% increase in EPA city fuel economy ratings from the standard CR-V. That kind of advance comes from the hybrid powertrain currently found in the Honda Accord. It combines:
2.0L 16-Valve DOHC Atkinson Cycle Engine
Electric Motors
Hybrid Battery Pack
A sophisticated Intelligent Power Unit (IPU) distributes power between all four wheels to ensure flawless performance at all times.
Honda CR-V Hybrid Design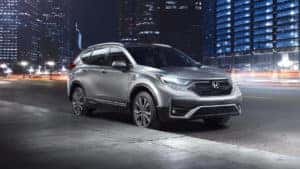 The 2020 Honda CR-V will get revised exterior styling to bring it right up to the cutting-edge. The CR-V Hybrid is set to share in those updates while bringing a few exclusive exterior accents to set itself apart.
CR-V Hybrid design features include:
Hybrid Badging
Blue Honda Logo on the Grill
Hidden Tailpipe
Unique Rear Bumper (Touring Trims)
Explore the Full Honda Hybrid Lineup at Your Local Showroom
There's plenty to get excited about when it comes to the Honda CR-V Hybrid, and you can get a taste of what's to come by checking out the current hybrid models available from your local Hampton Roads Honda dealer. To find out more or hear about current specials, feel free to get in touch today.