Let's face it, there are a lot of vehicles on the marketplace, so how can you decide which of these vehicles is able to provide you with everything you want and need without spending hours test driving vehicle after vehicle? It can be difficult, especially in segments where the vehicles share a lot of commonalities. This may seem to be the case when comparing the 2017 Honda Civic Si, the 2017 Volkswagen Golf GTI, and the 2017 Hyundai Elantra. After spending a little time looking at the details, though, it's easy to find a clear winner; in this case it's the 2017 Honda Civic Si. Read on to see how we came to this conclusion.
Which Car Does It Better?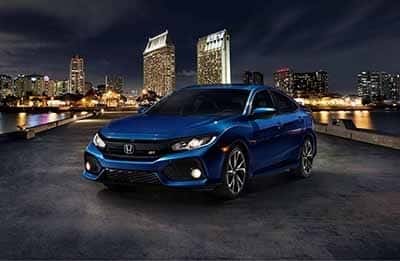 At first glance, these vehicles seem incredibly similar. They are similarly priced, making cost less of a factor in the comparison process. The vehicles also have common powertrain outputs, which takes away another main point that is often used to compare vehicles. Though, even with the omission of these two fields, the 2017 Honda Civic Sedan and Coupe models still show they have much more to offer than the competitors. First of all, the 2017 Honda Civic Si has received 5-star ratings in all NHTSA crash testing,* meaning that it's safer than the Golf GTI and the Elantra, which have varying scores among the categories. Another important area where the Civic Si shows its upper hand is in the efficiency department. Though all of the vehicles have similar power outputs, the Civic Si is most fuel efficient with an EPA-estimated 28 mpg city and 38 mpg highway.** The Golf GTI can only muster up to 24 mpg city and 34 mpg highway, and the Elantra falls way behind with 22 mpg city and 30 mpg highway.
The 2017 Civic Si Has What You Need
The 2017 Honda Civic Si is just waiting to be taken out for a test drive at your nearest Hampton Roads Honda Dealer. Head over today, or contact us online to learn more about test driving, financing options, or current offers.
**Based on 2017 EPA mileage ratings. Use for comparison purposes only. Your mileage will vary depending on how you drive and maintain your vehicle, driving conditions and other factors.