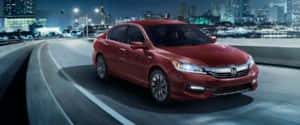 Fuel economy is important to today's drivers, whether they're concerned about environmental impact or just want to save money at the pump. When it comes fuel efficiency, the members of the Honda family shine brightly among their competitors.
Two Honda vehicles, the 2017 Honda Accord Hybrid and the 2017 Honda CR-V, were recently recognized for their exceptional environmental friendliness. Read on to find out more!
Green Machines
The Honda Accord Hybrid was recently declared one of the Greenest Vehicles of 2017 by the American Council for an Energy-Efficient Economy (ACEEE). The honor was given in acknowledgment of the car's ongoing stance as one of the most environmentally friendly automobiles available in the marketplace.
The popular Honda CR-V, when equipped with a 1.5L turbocharged engine and front-wheel drive, was also recognized by the ACEEE among its Greener Choices 2017. The CR-V ranked within the top 11% among the vehicles considered for the award.
Vehicles in the running for the ACEEE's Greener Choices 2017 list included gas-powered cars and light trucks that feature automatic transmissions and have wide availability in the automotive marketplace. Vehicles considered for the honor were ranked following an analysis of their automotive life cycles, which took into account environmental driving impacts, manufacturing, and end-of-life recycling.
Meet the Models
The incredibly efficient 2017 Honda Accord Hybrid serves up an incredible EPA-estimated 49 mpg in the city and 47 mpg on the highway.* The car also features the very first two-motor hybrid system in the automotive industry, which utilizes one motor for acceleration and another to start the engine and charge the first motor.
The ever-popular Honda CR-V delivers an EPA-estimated 28 mpg in the city and 34 mpg on the highway (in 2WD EX, EX-L and Touring models).* Two engine options are offered onboard the CR-V: a 2.4L In-Line 4-cylinder engine, which comes standard and produces 184 hp and 180 lb-ft of torque, and an available 1.5L turbocharged engine that generates 190 hp and 179 lb-ft of torque.
Check Them Out!
Drivers can get up-close and personal with the award-winning 2017 Honda Accord Hybrid and the 2017 Honda CR-V at any Hampton Roads Honda Dealers location. Stop in and see us or contact us today to get great deals on these high-quality Honda models and to take each one for a test drive!