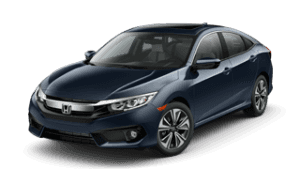 A recent report at Cars.com has just confirmed what most Hampton Roads drivers already knew: The 2017 Honda Civic is one of the best compact cars on the road today! No matter what you're looking for in your next small car, you're sure to find it in the Civic, which is priced affordably at just $18,740 MSRP for LX 6MT models.* The reviewers at Cars.com judged the Civic's performance in a wide variety of categories, and competitors like the Kia Forte, Subaru Impreza, and Volkswagen Jetta just couldn't keep up! Find out why the Civic received such glowing evaluations by reading on below.
What Sets the Civic Apart?
When they announced their decision, the reviewers at Cars.com noted several distinct factors that gave the Civic an edge over the other members of its segment. For starters, the Civic's engineering and performance specs simply made it more fun to drive! One reviewer noted that The Civic feels planted in corners, urging you to go faster where other compact cars beg you to back off." Additionally, the Civic's interior offered storage space, quality technology features, and stylish elements that weren't available in competing compact cars. On top of all this, the Civic's low price tag makes it an incredible value. All of its trim levels are incredibly well equipped, and what's more, they're rarely more expensive than comparable models. We should also note that the Civic, like most of Honda's cars, comes equipped with many of this year's most powerful and desirable safety features.
Take the Honda Civic for a Test Drive!
It's no secret that the 2017 Honda Civic is one of the best compact cars on the road, but if you really want to see what this vehicle has to offer, then you'll have to take it for a test drive at your local Hampton Roads Honda Dealer! Check out our current offers and financing options for drivers on any budget, and then schedule a test drive by getting in touch with us today!