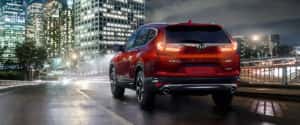 Hampton Roads drivers have a lot in common with folks all across the country, and that means they often choose their vehicles based on price, practicality, performance, and fuel efficiency! Every year since 1983, the writers at MotorWeek have presented their Driver's Choice Awards, a list of vehicles selected precisely for their robust performance with respect to each of the above criteria. This year's series of awards included two vehicles that have quickly become favorites of Hampton Roads drivers: the 2017 Honda Civic and the 2017 Honda CR-V. Find out how each of these vehicles has won the respect of MotorWeek's editors by reading on below!
Driver's Choice Awards: The 2017 Honda Civic and the 2017 Honda CR-V
This year's round of Driver's Choice Awards saw the 2017 Honda Civic dominate the rest of the small car segment. Unlike some of its competitors, the Civic offers high-quality features, remarkable engine performance, and impressive fuel economy, all of which add up to an unbeatable touring experience. The 2017 Honda Civic also won this category in 2016, but as the reviewers at MotorWeek note, its continued success this year was due to the introduction of two all-new Civic models: the 2017 Honda Civic Coupe and the 2017 Honda Civic Hatchback! Each Civic build lives up to this one-of-a-kind vehicle's incredible reputation, and that means you'll be able to choose the model that best suits your lifestyle without missing out on the elements that make the Civic so desirable.
Drivers and families who need a little bit more space when they're on the go would do well to consider the 2017 Honda CR-V, this year's Driver's Choice winner for the small utility category. Like the Civic, the CR-V boasts a smartly designed, efficient drivetrain and a remarkably well-equipped interior. The CR-V's incredible value has made it popular all across the U.S., and it's currently the best-selling automobile in its segment.
Take a Honda for a Test Drive!
Hampton Roads drivers can schedule a test drive in the Civic, the CR-V, or any other outstanding member of Honda's lineup by using our contact page or by stopping by their local Hampton Roads Honda Dealer! When you take advantage of our current offers and financing options, you'll quickly see why MotorWeek celebrated these vehicles in their 2017 Driver's Choice Awards.