According to the writers at Motor Authority, the 2017 Honda Civic Type R has something that none of its competitors could match! In fact, they've just selected the Civic Type R as the Best Car to Buy for 2018, citing its satisfying and energizing performance both on and off the racetrack. One observer, quoted in Motor Authority's breakdown of the results, tells it like it is: "'Underneath it all it's a Civic, after all. And that's its best secret.'" The new Type R's 2.0T turbocharged 4-cylinder engine, aerodynamic stylings, and racetrack-ready interior features represent exciting new developments in this model's long history.
Civic Type R Features and Advantages
The 2017 Honda Civic Type R doesn't hold anything back, and when you know how to make the most of its innovative, powerful features, you'll quickly see why the folks at Motor Authority fell in love.
2.0L VTEC Turbocharged Engine: This 16-valve DOHC Inline 4-cylinder engine is the foundation of the Civic Type R's capabilities. It produces 306 hp and 295 lb-ft of torque.
Interior Features: The Civic Type R looks just as good as it feels to drive! In the cockpit of this hatchback-styled racer, you'll encounter a 6-speed manual transmission, red/black lightweight front bucket seats, sport pedals, and a leather-wrapped steering wheel.
Handling Capability: The only thing more impressive than the Civic Type R's engine is its ability to apply its power with consistent grace. An adaptive damper system, a limited-slip differential, 20-inch black alloy wheels, Brembo front brakes, and a lightweight chassis are the foundation of the Civic Type R's exceptional road manners.
Aerodynamic Design: The Civic Type R's exterior features offer more than just unique aesthetics. Features like its rear wing, its vortex generators, and its functional side skirts make this vehicle quicker and more efficient.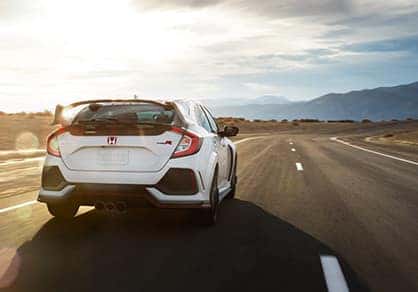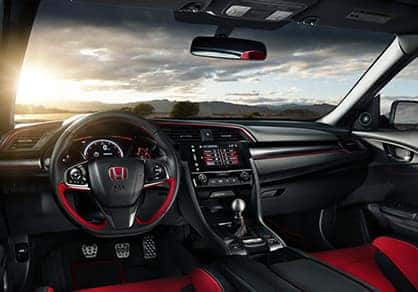 Take the Civic Type R for a Test Drive!
Now's your chance to take Motor Authority's 2018 Best Car to Buy for a test drive! The 2017 Honda Civic Type R is available now at Hampton Roads Honda Dealers, and those who take advantage of our current offers can take one home today at a price they'll love. Contact us today to see what the Civic Type R can do!