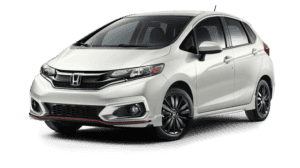 Coming soon to a local Hampton Roads Honda Dealer is the 2018 Honda Fit, which has undergone a face-lift since the 2017 model came to market. New exterior styling gives the Fit a sportier appearance and a boost in performance, while the interior also gets a new look and more safety features. The addition, a specialized Sport trim and two new exterior colors are also something to look forward to. Keep reading to learn more about the new redesign and what it brings to the road.
Sporty Style to Go Around
For its fourth release, the 2018 Honda Fit has decided to change up its approach to styling. Though the previous models have all excelled in providing drivers with what they wanted and needed, a new look is always exciting. To make the Fit appear sportier and appeal to a larger audience, enhancements such as 16-inch wheels with machine-finished spokes and gloss black inserts, a two-piece chrome and piano black grille, Orange Fury and Helios Yellow exterior color options, and much more do their due diligence. Alongside the overall changes to the vehicle's exterior, there will also be the introduction of a new trim level: the Sport.
The Sport trim pays special attention to detail by making the vehicle slightly longer; providing aero form features on the front, side, and rear; integrating a low front splitter; and creating a lower and wider appearance. Of course, we can't forget the interior of the vehicle, which wraps up things very nicely. The all-black look creates a sophisticated feel, as do cross-hatched seat fabric and door trim. Overall, these new design changes to the 2018 Honda Odyssey will provide drivers with a wider range of customization options in a number of departments as well as better performance all-around.
See the Honda Fit Today
While the 2018 Honda Fit isn't available to the public yet, there's still so much to learn about the vehicle before its official release. Come down to your local Hampton Roads Honda Dealer to stay up to date with new information about the 2018 Fit. You can also find us online where you can learn more about our inventory, current offers, and financing options.